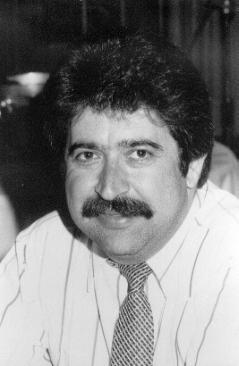 Tasos C. Papanastasiou
1953 – 1994
Professor Papanastasiou who passed away on March 1994 was born in Paphos, Cyprus, in 1953, and graduated from the Department of Chemical Engineering of the National Technical University of Athens in 1978, having ranked as one of the best students in a very competitive class.
In the fall of 1978, he started his Master's degree in the Department of Chemical Engineering and Materials Science at the University of Minnesota in the USA. His work in the field of biochemical engineering with Professor Mater of the Department of Civil and Mineral Engineering resulted in two papers (Papanastasiou and Mater, 1982, 1983), that are still cited in the field.
He continued his studies at the University of Minnesota for a PhD degree under the supervision of Professors L.E. (Skip) Scriven and Chris Macosko, themselves world-renowned researchers and prolific writers in the fields of rheology and computational fluid mechanics. His project, as summarized in the title of his PhD thesis (Papanastasiou, 1984), was to tackle the very challenging and fundamental subject of viscoelasticity, in relation to an all-encompassing approach including fluid mechanics, polymer processing, coating flows, rheology, and computer-aided analysis. Professor Papanastasiou had successfully defended his PhD thesis and had been awarded his doctorate degree in October 1984.
A summary of his work is given in a dedicated article of Rheol Acta 35:525-530 (1996) written by E. Mitsoulis.